Tel: +86-769-86182926
Fax: +86-769-86182936
Mobile: +86-15724015298
E-mail: Sales@topsolarradios.com
Add: Xiang Xi Industrial Park, ShiPai Town, Dong Guan City Guang Dong Province, China.
Skype: guiliang.lv2
whatsapp: +8615724015298



Product name : Fashion Mini FM Radios with Digital tuning

Product No. : JL-001

Color :

:

:
Details:
Fashion Mini FM Radios with Digital tuning
Product Description:
1. Can play MP3/WMA/WAV music from TF card and USB flash drive (MAX16G);
3. With FM radio,radio can automatically scan and memory channels;
5. With a 600mAh rechargeable BL-5C Lithium battery, can charge by connecting USB charge
cable to computer or USB power adapter, or by universal charger, etc;
6. With standard 3.5mm earphone jack, available for earphones to listen to radio and music;
7. Be available to select radio channels and music with 0-9 number buttons, it is user-friendly.
8. With MP3 Repeating fuction, can control to repeat the MP3 of current ONE/ALL;
9. In MP3 mode, when power off, can playback the current mp3 when power on next time.
10. With LED dispplay screen and power saving mode, when without operation for a while,
it will enter into power saving mode to help to save power;
11. With luminous buttons, convenient for you to operate even in dark night without light on.

Specifications:

(1) Input power: 5V 500MA
(3) Battery capacity: 600mAh (marked 800mAh) rechargeable BL-5C battery
(4) Signal to Noise: 87dB
(5) Decoding format: MP3 (8-320Kbps)
(7) Loud Speaker: 45mm 4Ω 3W (Internal magnetic)
(8) Charging time: 2-3 hrs
(10) Size: L100*W25*H62mm



Functions:


It's very mini, but most special full of functions. It's voice recorder, it's MP3 player, it's FM radio,
it's even a flashlight. luminous buttons, power saving mode, 0-9 number buttons selection and musice looping.
it's too multifunctional to be believed.

1.With ultra useful recording function:Afraid to forget the important conference content? Hard to remember the study lessons?
Want to record the evidence of crime? Want to record the FM radio? With it all becomes very simple!
2.With flashlight function: Ultra useful when outside at night especially tourist camping.
3.With Luminous buttons: Even easy to control it in dark night, very user friend design.
4.With power saving mode: When without operation for a while, it can enter the power saving mode to help you to save power
and extende the play time.
5.With volume knob: Easy to control the volume as you want.


600 mAh battery*1


Six Face Show: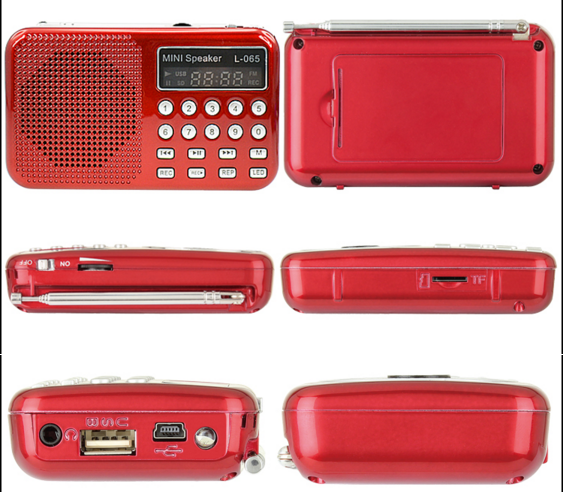 W

elcome your further inquiry more.
Sending inquiry NOW!!!